A new Beta release for the infamous systemless interface has been announced. Through this page, you can download Magisk 14.6 Beta Flashable ZIP and Magisk Manager 5.5.0 APK. Further, we will also guide you on how to install Magisk 14.6 Beta on your Android device to root it.
The systemless interface has gained a considerable amount of recognition in the Android developers/customization community. And that's for three major reasons. First, it allows a user to root Android device(s). Second, it also allows you to hide root from certain apps. And third, you can freely install modules and use them to gain additional features in the OS. Sounds quite interesting on the whole, right? If so, then you should consider installing Magisk on your phone.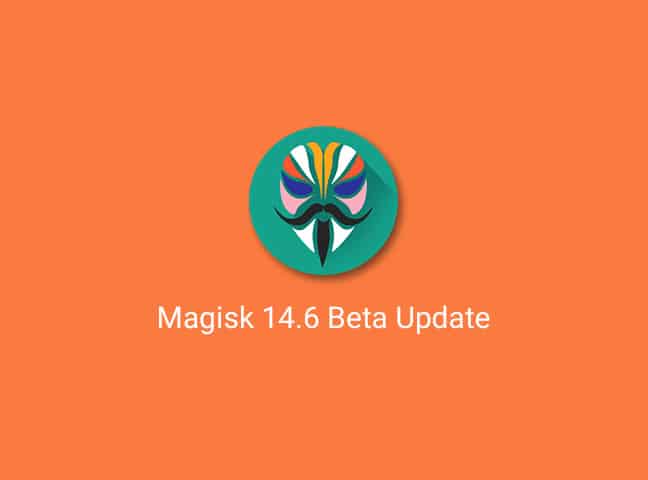 Table of Contents
What is Magisk?
Magisk is a universal systemless interface that allows you to modify the device's operating system without actually touching the System partition. The mod has been developed by topjohnwu.
During the past years, we have seen an immense increase in the available customization options for Android. The prime reason for an average user to root an Android device is to extend the software functionality and experience something better than what the OEM has provided.
This could be done using a few established options – Custom ROMs or individual mods. But now, there are complete modification utilities like Xposed Framework and Magisk, that could help you add extra features to your device, without having to install a custom ROM. The latter also allows you to root your device and could be considered as a potential alternative to the SuperSU root solution.
Magisk 14.6 Beta Update – Changelog
The new build was announced on December 22, 2017. Now before go follow the instructions to root Android using Magisk 14.6 Beta update, let us take a quick peek at the new features and changes that the latest update offers.
The Magisk Manager companion application is now updated to 5.5.0
Moved all files to a safe location: /data/adb
New invincible implementation: use magiskinit_daemon to monitor sockets
Rewrite logcat monitor to be more efficient
Fix a bug where logcat monitor may spawn infinite logcat processes
Update su to work the same as proper Linux implementation.
Massive refactor, rewrite all cpio operations and CLI in MagiskBoot
Support ramdisk high compression mode
By the looks of it, it doesn't seem much. But considering the amount of work that goes into it, the above changelog means a lot more for the developers. For more detailed information on the changes, refer to topjohnwu's XDA post.
Now follow the instructions below to root Android using Magisk 14.6 Beta Update.
Prerequisites
Instructions to Install Magisk 14.6 Beta to Root your Android Device
We will be covering two different methods. Users who have TWRP installed can simply opt for Method 1. For those who want to install Magisk 14.6 Beta update without TWRP can follow Method 2.
Method 1: Flash Magisk using TWRP Recovery
Download the latest Magisk Flashable ZIP file from this link.
Connect your Android phone to the PC and enable the 'File Transfer' mode.
Transfer the downloaded zip package to the internal/external storage of your device.
Disconnect the phone from the PC.
Now, reboot your Android into TWRP recovery mode using the special buttons combination. Or, you can also do it by using the following command.

adb reboot recovery

In TWRP, go to the 'Install' menu.

Navigate to the location where you copied the Magisk zip file and select it.
Finally, swipe the button on the screen to install Magisk 14.6 Beta Update.
Once the flashing process is complete, hit the 'Reboot System' button.
Method 2: Flash Magisk Patched Boot Image
If your Android device does not have TWRP recovery, you can still use Magisk 14.6 Beta Update to root it. This could be easily done by patching the stock boot image and then flashing it using Fastboot.
Download Magisk Manager v5.5.0 APK and install it on your device. If you're unsure of how to install APK files, please refer to this resource.
The foremost requirement of this method is the stock boot image for your device. Note that it should be corresponding to the current firmware build.
If you have a Pixel/Nexus device, you can grab the factory image and extract the boot.img from it. For other OEM devices, you will need to check your manufacturer's support website.
Copy the "boot.img" file to the internal storage of your device.
Launch the Magisk Manager app. Press the menu icon (3-horizontal lines) and select 'Settings'.

Tap on 'Update Channel' and make sure 'Beta' is selected.
Next, go back to the app's main screen and tap on 'Install' and then 'Install' again. Then select 'Patch Boot Image File'.
Navigate to the location where you placed the stock boot image and select the file.
The patching process will start automatically. The new 'magisk_patched.img' will be present in the 'Download' folder of your phone's internal storage.
Connect your phone to the PC and copy the 'patched_boot.img' to the C:\adb (Prerequisites, #3) on your PC.
Hold the SHIFT key and right-click on an empty space inside the folder.
Select 'Open command window here' or 'Open PowerShell window here'.
Use the following command to reboot your device into Fastboot mode.

adb reboot bootloader

Once the boot image has been flashed, reboot your device.

fastboot reboot
Your phone will boot into the rooted OS. You can use Magisk Manager to install modules, manage root permissions, and hide root from specific apps.
So you have just been able to root your Android phone using Magisk 14.6 Beta. If you have any questions regarding the process, leave a comment below.